Nancy Mck

Welcome to the NancyMck web site.

Here you have it, the one you have been waiting for.

The Penultimate all about ME page.

And, about time, you say. I can hear you now.

Actually, this will not be all about me. You'll find some other things here, too. What you won't find is my family, since I don't own them. I figure if they want to put themselves out there, that is up to them to do so.

You will find my friends...well, a certain group of friends, since we are already all over the web anyway. So, what the hell, huh?

Photos on these pages come from the personal collections of Bobubas, CynD, MsCriseyde, Vampirich and myself. They were taken at various DS Fests, Halloween Parties, location trips, related plays and a pilgrimage or two.

Some very special friends are found on these pages. I want to give my heartfelt thanks to each of them for the support they have given me during this very difficult time of my life.

Many thanks, much love.


A personal note: On October 24, 2001 Sheenaspa and I lost our beautiful 18 year old cat, our special girl.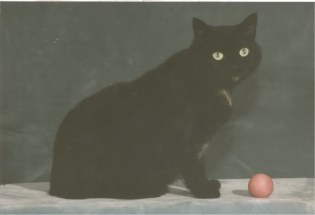 A tribute to her can be found here:


This page last updated on November 3, 2001


Sheena

September 11, 1983 - October 24, 2001